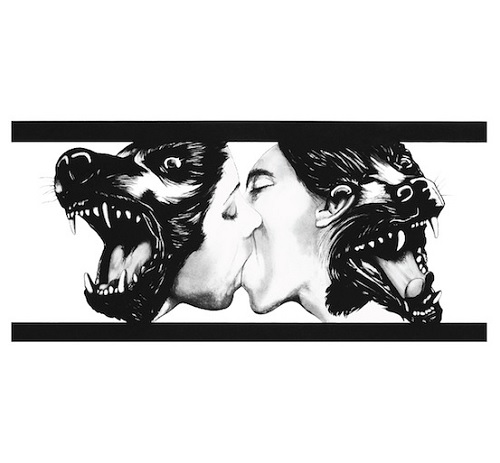 Holy Ghost! are a duo composed of Alex Frankel and Nick Millhiser out of Brooklyn, New York who create funky, synth-heavy dance music. Dynamics is their follow up album to their debut self-titled album they released in 2011.
Dyanmics is a slight departure from Holy Ghost!'s debut album. It seems to draw more inspiration from disco and pop, with an overall more bright and mellow sound whereas their debut album was definitely darker and slightly more frantic.
The album begins with two of the album's most catchiest and upbeat songs: "Okay" and "Dumb Disco Ideas", the former of which was the first single they released. However, these two songs do not particularly set the scene of what the rest of the album is like. In fact, much of the album is filled with slower jams, with more of a focus on vocals than the hard beats. An example of this is the singalong worthy song "Changing of the Guard". Songs such as "It Must Be The Weather" and "In the Red" also reveal Holy Ghost!'s talent at creating chiller synth melodies.
The duo create a super atmospheric mood with their production of interlude track "1 For Edgar" which smoothly transitions the first half of the album into the second half in just over a minute. At first glance, this album could be easily filed under synthpop, but in actuality, many of the songs differ quite a bit.  "Don't Look Down" is a highlight, meshing heartfelt lyrics and a nu-disco undercurrent that you could almost mistake for being 80s cheesy disco. However, in stark contrast to this, you can really hear the hip hop influenced drum beats and vocals in "Bridge and Tunnel".
Something that's interesting about Holy Ghost! is that Franckel himself does all the vocals on all their tracks, which is not totally usual in the electronic dance music world. He isn't a professionally trained vocal artist, and you can occasionally hear the rawness in their music. Regardless, it's fantastic for the listener of their albums, as it gives the listener a variety of music, from carefree dance beats to more emotionally lyric-driven songs.
This article was first published on SYN Reviews.
The Breakdown:
Hometown: Brooklyn, New York.
Latest album: Dynamics, out September 3 2013.
Sounds like: Small Black, Cut Copy, Strange Talk. 

Say what? The two guys used to perform in a hip hop group called Automato. Although this group disbanded quickly, they crucially met Murphy Goldsworthy from DFA Records, who took them under his wing to create Holy Ghost!.