Melbourne band Northeast Party House's debut album Any Given Weekend comes out today through Stop Start Music and they'll be touring Australia throughout July in honour of it.
Pleasing both dance fans and indie rock enthusiasts, this album is all about the dark melodies, catchy hooks and driving guitar. The sounds of the humble cowbell also finds its way woven seamlessly into a few tracks. We've written about "The Haunted" before, but other standout songs include title track "Any Given Weekend", as well as "Fake Friends" and "Sick Boy".
All of these tunes lend themselves to a live setting probably even more so than just listening to them at home. Luckily! You can catch the guys themselves on the following dates:
Thu 19 Jun – Jive, Adelaide, SA
Fri 20 Jun – Karova Lounge, Ballarat, VIC
Sat 21 Jun – Corner Hotel, Melbourne, VIC
Wed 25 Jun – Beach Road Hotel, Bondi, NSW
Thu 26 Jun – Rad, Wollongong, NSW
Fri 27 Jun – Transit Bar, Canberra, ACT
Sat 28 Jun – Newtown Social Club, Sydney, NSW
Sun 29 Jun – The Lair, Sydney, NSW *All Ages
Wed 02 Jul – Small Ballroom, Newcastle, NSW
Thu 03 Jul – Alhambra Lounge, Brisbane, QLD
Fri 04 Jul – Sol Bar, Maroochydore, QLD
Sat 05 Jul – Spotted Cow, Toowoomba, QLD
---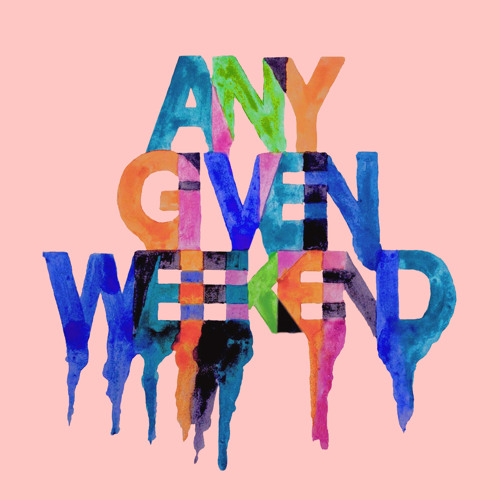 We managed to hit the busy band up with some questions.
AF: How did Northeast Party House begin? 
NPH: The band began with Jack, Zach and myself. Jack and I have played in bands together since we were quite young. At the time we were just listening to the music that our parents were listening to, so we were playing a lot of jazz and funk. However once we graduated and got our license we would drive around listing to the radio, namely triple j and 3RRR and we became heavily influenced by what we were hearing, mostly indie bands out of the UK and new local electro stuff like The Presets and Empire Of The Sun. The radio made us realise there were more current genres of music out there that were speaking to (and for) our generation. I think at that point we realised that was something that was really important for us, to be a band that speaks to our friends, and our generation. Jack and I were terrible singers though, so one day we had Zach come over for a jam and a few hours later we'd written Dusk, and Northeast Party House was born. 
AF: You're often compared to Bloc Party – what other international artists influence you? 
NPH: Our comparison to Bloc Party is fair i guess, but given we have 'Party' in our name, have a black front man and our music occasionally crosses over the genre of Bloc Party's, it seems like more of a lazy comparison to us than a truly musically informed one. Zach definitely has a similar timbre in his voice, that same powerful, open vocal sound that Kele has but Bloc Party have never been a major influence of ours. Our influences come from extremely varied sources now, I personally listen to a lot of progressive house music and techno, Jack and Mitch love their distorted, guitar driven 90s rock, Malcolm loves a balanced mix of Sabbath and Katie Perry, Zach listens to a lot of Hip Hop and RnB and LCD Soundsystem always gets a good spin in the tour van. Having said that, we all cross over and enjoy listening to all kinds of music, I think NPH is our way of meeting in the middle. 
AF: Here at art felicis we relate to your song "Youth Allowance" a little too closely. Are you guys committing to music full-time these days, or are you studying/working as well? 
NPH: I think the concept of 'committing to music full-time' in a financial sense has completely gone out the window. To be a successful band today it not only requires full commitment but also a great deal of good fortune and good timing. The band is everyone's first priority and some of us are lucky enough to be able to juggle our weekly schedule of work or study so that we can spend a lot of our time playing music, but that's really all one can do. Keep working at your craft and being creative as much as you can, the rest is out of your control. When it comes to Youth Allowance and government payments none of us are on them now, which is nice.
AF: Apart from early 20s financial struggles, what other themes do you draw inspiration from when you write music? 
NPH: Themes of all sorts. There's an enormous amount of information to absorb and consider in one's early twenties, I think life's lessons start leaving bigger bruises. All of us write for the band so the content varies greatly between experiences from person to person. The lyrics on the album, although they may not seem it often stem from pretty broken life experiences. Like being burned by an ex, feeling hopelessness, feeling powerless… then there's also songs on there which are just intended to make you want to have a good time and dance it all off. We tried to inject as much fun and silliness into the album to balance out the more serious moments.
AF: What's your favourite song off Any Given Weekend and why? 
NPH: My favourite song is Fake Friends. It's so much fun to play live. We've been rehearsing for our upcoming tour the last month and every time we play this song it puts a smile on all our faces. Also, I get to just hit a cowbell and play these crazy synthesiser sounds the whole song and you can't really beat that. 
AF: What can Northeast Party House fans expect from your upcoming Any Given Weekend Tour?
NPH: We're planning on playing the whole album plus a few old ones. It'll be a long, satisfying set of dancing, sweating and loud noise coming from our direction. NPH gigs have barely changed since the beginning of the band, and our fans are some of the most passionate around, they'll cause a ruckus I'm sure. 
AF: Where's your favourite place to gig? 
NPH: Last time we toured it was with The Jungle Giants. We played a sold out Metro Theatre in Sydney with them and it was amazing. The younger crowds there are awesome and they respond so positively to the music. The atmosphere in the room was pretty hard to beat. Having said that, our first ever headline gig in 2010 at The Blue Tile Lounge on Smith Street in Melbourne was a pretty hard gig to top.
AF: We love Melbourne artists! Who are some of your favourite local acts?
NPH: Some of our fav bands to see in Melbourne would be City Calm Down, King Gizzard And The Lizard Wizard, Drunk Mums and The Mary Goldsmiths.
AF: Say what? 
NPH: The Word 'Northeast' in Northeast Party House doesn't refer to a direction, it's actually the surname of their mate Sam Northeast, who threw a massive two week long party at his house in high school whilst his mum was away.
Exclusively and pretentiously handpicked just for you, by Jane.