Hayden James showcasing Australia's finest in dance music.
All the way in a Shibuya nightclub.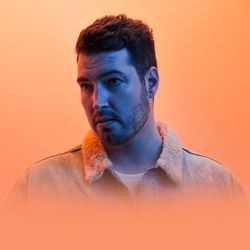 I did not think I would find myself in Tokyo getting completely lost in a Hayden James DJ set when backpacking through Japan. But it happened and I ain't mad.
While swapping plans for my evening activities with a gorgeous Dutch couple who looked like they had just walked off a catwalk into my hostel room, I found out that clothing brand and record label Maison Kitsuné were holding a party featuring not one, but two Australian DJs – Young Franco and Hayden James as well as French producer DJ Falcon and Tokyo DJ Boys Get Hurt.
Coming up to two months of being out of Australia, I literally jumped up and down at the idea of sinking my ears into what I knew would be an excellent DJ set pumped full of delectable Australian electronic music.
Having seen Hayden James play a number of times, I'm all-too-familiar with his flawless transitioning and tendency to jam pack dance-friendly tracks into his playlists.
My suspicions were confirmed: it was a showcase of the best electronic music Australia has to offer – tunes that are almost classics now. Flight Facilities was in there twice, including the Wave Racer remix of 'Stand Still' and their own 'Heart Attack' featuring Owl Eyes. Flume also got a double feature, through his remix of Disclosure's 'You + Me' and 'Never Be Like You'. And finally, RUFUS snuck in a couple of times too, with 'Innerbloom' and Hayden James' own remix of 'Sundream'. Of course, it wasn't just local music, with an abundance of related acts like ODESZA, Disclosure and Cashmere Cat.
If you have a chance to see him play, don't deny yourself the opportunity. Luckily, Hayden James is such a main fixture at clubs and festivals across Australia (and the world it seems), there shouldn't be a lack of shows.
An hour and a half of dancing and obnoxiously screaming lyrics amongst Tokyo locals later, I had satisfied my Australian music craving. Thanks Hayden!
---
THE BREAKDOWN:
Based in: Sydney, Australia.
Sounds like: Disclosure, Motez, Golden Features.
Say what? Hayden James played a meagre 96 shows last year.